Now on to the fun stuff! It's college football season -
WOOHOO
! We are Kansas State University Wildcat fans in this household (both Daddy Mac and I went to school there) - even though this is probably going to be a rather rough year. Daddy Mac and I are in our jerseys and the kids are decked out in Wildcat gear as well - Monster Boy has his own little jersey (although he needs a new one - this one is on the verge of being too small - guess we'll be hitting up the stores sometime this week) and Miss Sunshine is in her cheerleader outfit - she is just too cute in it! Too bad the games won't be televised.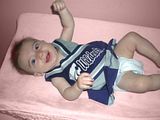 On a side note - I am working on figuring out the best way to post pics on here for you all! So you may want to go back through some of my previous posts here in a week or so, as I will be adding pictures that are relevant to the posts for you. I realize that the blog is rather boring right now, and I am going to try and spice things up a bit.... I'm not too horribly computer savvy, so it'll be a work in progress, but I think it will be well worth it in the end... hopefully I can get this thing kicked off and up and running a little bit better. My
step mom
is a web designer, so I'm hoping to get her to show me some tricks as well. I gotta pimp my site -
haha
....
Miss Sunshine has become mobile. She is not ACTUALLY crawling yet - still doing the scoot thing - but she moves pretty quickly with it at this point. And she is grabbing everything in sight these days. Her favorites right now are cords - uh-oh. Monster Boy wasn't much of a grabber - I never had to take stuff down or move things around with him, he really didn't mess with stuff. Sunshine, on the other hand, is in to EVERYTHING. I have a feeling we'll be doing some redecorating around our house once she reaches standing capabilities. She is learning NO at a young age, though! And completely ignores it. I know at this age that she really doesn't understand what that means, but she hears it enough she's going to figure it out quickly!
Well, Daddy Mac took Monster to the store and Sunshine is trying to eat the computer cord as we speak, so I'd better get her out of here... I'll try to catch up later on!